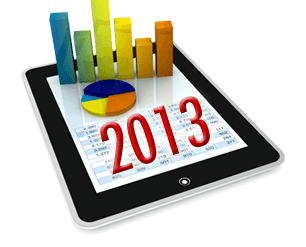 Opportunities, both small and big, are plentiful in today's business environment: growing consumer eco awareness, innovative ways of doing things, a crisis or a threatening trend. Proactive businesses who recognize and adapt will gain share and influence. No doubt, when faced with the realities of increased business risk, increased cost or loss of revenue, the business world inevitably responds. Such has been the case with water, carbon, and energy management becoming critical issues to address.
As 2012 has unfolded, our sustainability consulting firm has witnessed new business sustainability trends emerging and other trends growing in strength and momentum. What have they been and what trends can we expect to see in 2013?
Sustainability reporting is growing

- especially integrated reporting of financial and sustainability reports.
The CFO's role in sustainability is on the rise.
Employees are a key stakeholder group for sustainability programs and reporting. Employees rank just under customers as a primary driver and audience of sustainability efforts.
Greenhouse gas and water reporting are increasingly strong considerations despite regulatory uncertainty.
Awareness of the scarcity of business resources is on the rise - specifically w

ater - access to water, water management, water in the supply chain

.
Company executives rely on rankings and surveys.
Green Supply Chain - elevating sustainable supply chain management as a strategic business sustainability function and including suppliers in the process.
Big and small firms continue to join forces. Continued B2B collaboration.
Continuation of private/ public NGO forces uniting for greater good
Emerging markets and their impact
Wider adaptation of social media for stakeholder engagement
The role of boards: oversight and inclusion of business sustainability mandates
Continued developments with sustainable packaging.
Business sustainability is often reduced to environmental or social action. While certainly two very important areas of focus, business sustainability is really about taking action to maintain the on-going health and profitability of the company as a business strategy. This includes valuing the relationship with the environment and social stakeholders. The risk of natural resource shortages, coupled with changing customer and employee expectations, is likely to impact core business objectives in the coming years.