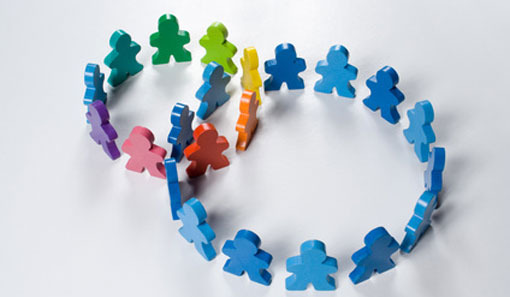 Employees can make a difference in internalizing sustainability and translating high-level commitments into action and results in a corporate sustainability plan. When you consider that daily, employees make far reaching decisions impacting an organization's environment and social consequences, there is the evidence that employee engagement matters and is a key component to accelerating sustainable business strategies. First, what exactly IS, employee engagement?
A recent Forbes article, What is Employee Engagement redefines the aims of engagement nicely:
Employee engagement does not mean employee happiness: Someone might be happy at work, but that doesn't necessarily mean they are working hard, productively on behalf of the organization.
Employee engagement doesn't mean employee satisfaction: Many companies have "employee satisfaction" surveys and executives talk about "employee satisfaction", but the bar is set too low.
Employee engagement is the emotional commitment the employee has to the organization and its goals: This emotional commitment means engaged employees actually care about their work and their company. They don't work just for a paycheck, or just for the next promotion, but work on behalf of the organization's goals.
Building sustainability into the picture, it is important to ask, Where do employees rank among business sustainability stakeholders? Who is ultimately responsible for their engagement? And how do they directly contribute to your business success? In an attempt to answer these questions, our sustainability consulting focuses its attention on the post, Employee Engagement: Why Do It If You Can't Do it Right? which explores the relationship between engagement and company success.
"If you want employees to take a vested interest in the bigger picture, treat them like stakeholders… when jobs are regarded more like investments, employees will show up with passion, productivity, and focus, making your company more profitable". -Paul Spiegelman, CEO of Beryl Companies
Taking its points from a recent Green Research study, the post describes how employee engagement will be among the top sustainability-related initiatives in 2012. The research poses the following questions to today's business sustainability tactics and strategies:
What are the trends in corporate sustainability budgets?
What are sustainability staffing trends?
In issues ranging from emissions reduction to water management to supply chain sustainability, how do leading companies rate their own performance and leadership?
What are the highest-priority sustainability initiatives planned for the coming year, to which companies will be dedicating significant staff and financial resources?
How influential are sustainability executives, and what are the most effective tactics for increasing influence?
It can not be overly stated that business sustainability presents the unique opportunity to increase profitability, gain and maintain a competitive advantage over the competition, and create meaningful work in the process. However, the sometimes overlooked thread bonding this concept is value of engagement and alignment .There is much more to employee engagement than satisfaction. Today's business sustainability leaders realize that a productive workforce must be keenly aligned with the goals of the organization.